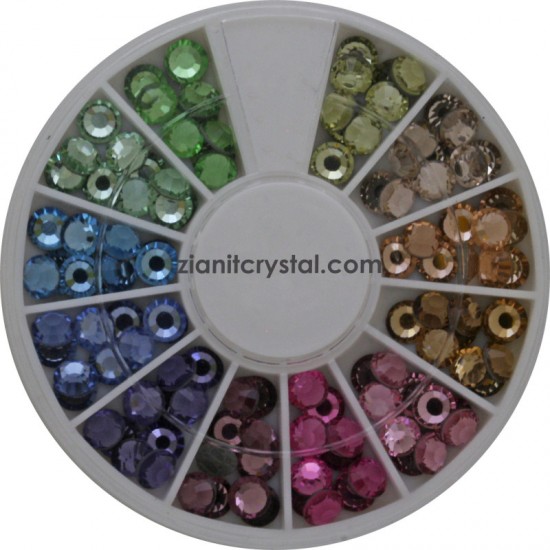 Preciosa Hotfix Crystals SS20 Light Color Pack
This is genuine Preciosa Crystal, which is manufactured in Czech Republic. The size is SS 20 (~5mm) and come with packing of 120 pcs per rotary container.
Color includes (counter-clockwise)
50520 - Peridot (10 pcs)
50000 - Chrysolite (10 pcs)
60000 - Aquamarine (10 pcs)
30020 - Light Sapphire (10 pcs)
20410 - Tanzanite (10 pcs)
20020 - Light Amethyst (10 pcs)
70010 - Rose (10 pcs)
70020 - Light Rose (10 pcs)
10330 - Light Colorado Topaz (10 pcs)
90300 - Light Peach (10 pcs)
00530 - Gold Quartz (10 pcs)
80100 - Jonquil (10 pcs)
Preciosa crystals are bright and sparkle. It is the second best behind Swarovski crystals. Silver foiling backing the crystal makes them even brighter and sparkling.
For the AB type, the crystals are further enhanced by coating the glass with an Aurora Borealis or AB coating that gives the surface a rainbow like appearance to simulate the dispersion from a diamond.
The new MC Chaton Rose VIVA12 series bring 12 beautifully shimmering facets, which give exceptional brilliance, fire, and sparkle crystal. It also brings more intense AB Effect. This series also comes with a new adhesive layer, a special glue-layer with a lower melting point, new grey interlayer & greater bond strength.
Hotfix Flatback
Style
MC Chaton Rose VIVA12
Size
SS20 (~5mm)
Color
Various
Type
Silver-Foiled Hotfix
Country of Origin
Czech Republic
Packaging
Rotary Container (120 pcs)
Stock:

2

Model:

PRCP12-20R

Swarovski
Tags:
Rotary Container
,
SS20 (5mm)
,
Peridot
,
Chrysolite
,
Aquamarine
,
Light Sapphire
,
Tanzanite
,
Light Amethyst
,
Rose
,
Light Rose
,
Light Colorado Topaz
,
Light Peach
,
Gold Quartz
,
Jonquil
,
50520
,
50000
,
60000
,
30020
,
20410
,
20020
,
70010
,
70020
,
10330
,
90300
,
00530
,
80100