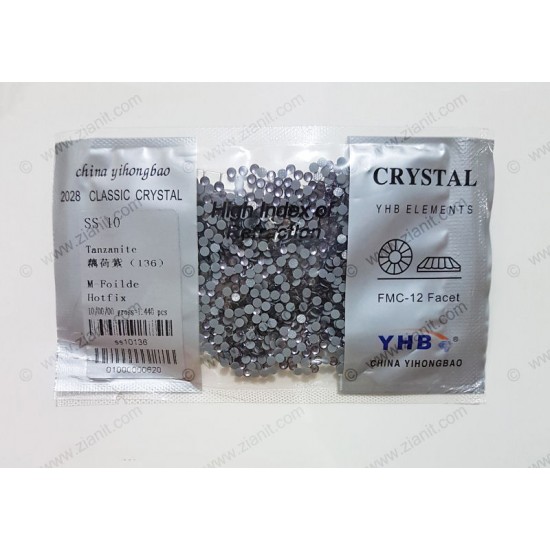 -10 %
YHB Hotfix Crystals SS10 Tanzanite 1440 pcs
This is genuine YHB Glass Crystal, which is manufactured in China. The size is SS 10 (~3mm) and comes with original factory packing of 1,440 pcs per pack. The color is Light Tanzanite.
YHB crystals are bright and sparkle and claim to be the best economy hotfix crystals. Silver foiling backing the crystal makes them even brighter and sparkling. The YHB Hotfix are machine cut (MC) rhinestones and contains 10-16 facets, has a grey glue and gives a brilliant appearance. The quality is almost as good as Czech rhinestone but with only at a fraction of the price.
If you are looking for Swarovski Copy hotfix, DMC hotfix, AAA Grade Hotfix then, YHB hotfix crystals can match or even exceed them in terms of quality, brilliant and sparkling.
For the AB type, the crystals are further enhanced by coating the glass with an Aurora Borealis or AB coating that gives the surface a rainbow like appearance to simulate the dispersion from a diamond.
Hotfix Flatback
Size
SS10 (~3mm)
Color
Tanzanite (136)
Country of Origin
China
Packaging
Original Factory Packaging (1,440 pcs)
Stock:

2

Model:

YHB136-10F

YHB