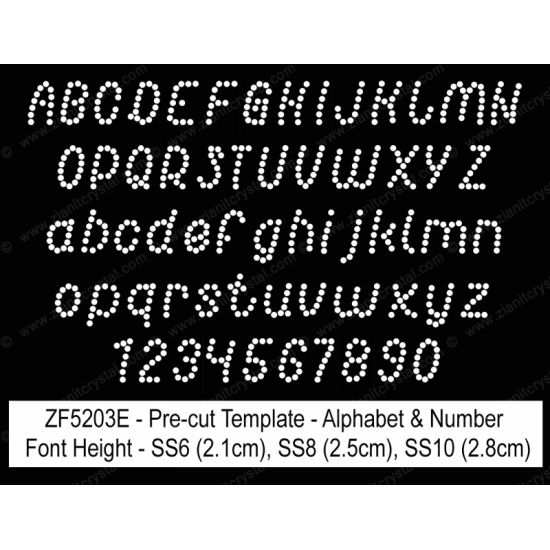 New
ZF5203E Rhinestone Font Pre-Cut Template Set
ZF5203E rhinestone font template set will include full uppercase, lowercase alphabet and numbers template as shown in the picture. You will receive 1 template of every characters or 62 pieces of individual template characters. You may use Swarovski, Preciosa and any other brands of Hotfix Crystals.
The template designed to use either SS6 (~2mm), SS6 (~2.5mm) & SS10 (~3mm) hotfix crystals. The maximum font height will be different for a different hotfix crystals size, and the height is tabulated in the table below. If you need a template for a different hotfix crystal size, we can do it for you, just contact us.
With this template, you will not have to worry about creating full transfers of the entire alphabet. Use only the letters you need, re-arrange and create any designs or words that you ever imagine.
These templates will last you for as long as you take care of them. With it, you can make thousands of custom transfers and designs for your customers.
Video the video below on how to use the template to create your rhinestone design.
Estimate Hotfix Font Height
SS6
2.1cm
SS8
2.5cm
SS10
2.8cm
Hotfix Font Height Range (Product Filtering Purpose)
SS6 Font Height
1.0cm to 2.5cm
SS8 Font Height
1.0cm to 2.5cm
SS10 Font Height
2.5cm to 4.0cm