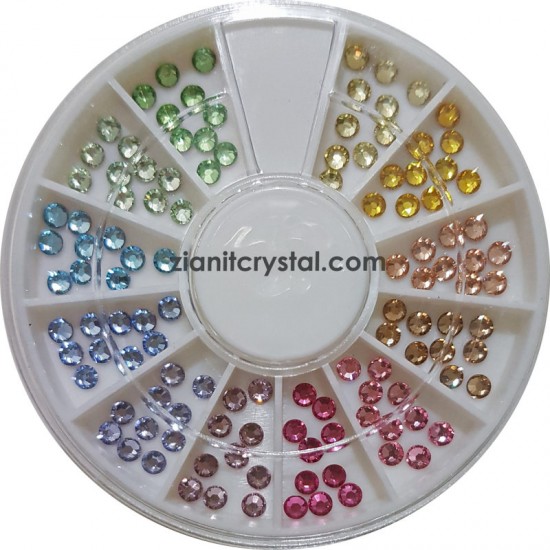 Out Of Stock
Swarovski Hotfix Crystals SS10 Light Color Pack
This is genuine Swarovski Crystal, which is manufactured in Austria. The size is SS 10 (~3mm) and come with packing of 120 pcs per rotary container.
Color includes (counter-clockwise)
214 - Peridot (10 pcs)
238 - Chrysolite (10 pcs)
202 - Aquamarine (10 pcs)
211 - Light Sapphire (10 pcs)
283 - Provence Lavender (10 pcs)
212 - Light Amethyst (10 pcs)
209 - Rose (10 pcs)
223 - Light Rose (10 pcs)
246 - Light Colorado Topaz (10 pcs)
362 - Light Peach (10 pcs)
226 - Light Topaz (10 pcs)
213 - Jonquil (10 pcs)
Swarovski crystals are brighter and sparkling when compared to other crystals due to patented manufacturing processes. To produce a diamond-like effect the crystal glass is precision cut and then polished to give high quality finishing.
Silver foiling backing the crystal makes them even brighter and sparkling.
For the AB type, the crystals are further enhanced by coating the glass with an Aurora Borealis or AB coating that gives the surface a rainbow like appearance to simulate the dispersion from a diamond.
In the 2038 series, when you look flip, it over and look at the back of the stone, it is a copper color. This is also patented by Swarovski and offers an easier way for you to ensure you are indeed getting genuine SWAROVSKI ELEMENTS products!
Hotfix Flatback
Style
2038 Xilion Rose Flatback
Size
SS10 (~3mm)
Color
Various
Type
Silver-Foiled Hotfix
Country of Origin
Austria
Packaging
Rotary Container (120 pcs)
Stock:

Out Of Stock

Model:

SWCP12-10R

Swarovski
Tags:
Swarovski
,
Hotfix
,
Batu Tampal
,
Flatback
,
Rotary Container
,
XILLION Rose (2038)
,
SS10 (3mm)
,
Multicolor
,
Peridot (214)
,
Chrysolite (238)
,
Aquamarine (202)
,
Light Sapphire (211)
,
Provence Lavender (283)
,
Light Amethyst (212)
,
Rose (209)
,
Light Rose (223)
,
Light Colorado Topaz (246)
,
Light Peach (362)
,
Light Topaz (226)
,
Jonquil (213)