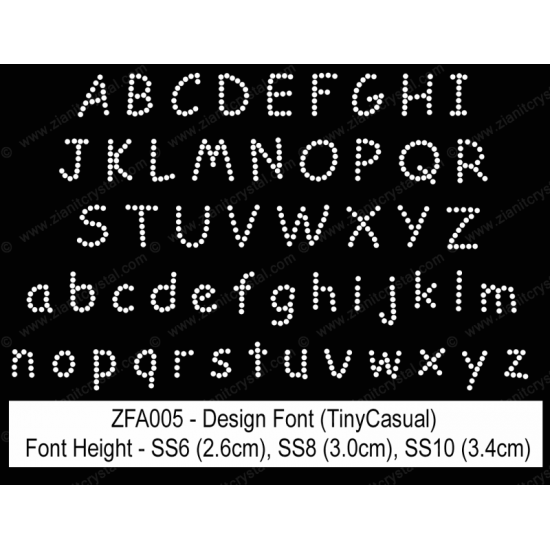 Ask us for Pricing
ZFA005 Rhinestone Design Font
Note:- This product is only for preview for those who like to make custom design by using rhinestone font with us.
You may select ZFA005 rhinestone design font to make custom rhinestone design with us. The custome design could be your name, your company name or anything you couls ever imagine, we may make the template for you. You may use Swarovski, Preciosa and any other brands of Hotfix Crystals.
The template designed to use either SS6 (~2mm), SS6 (~2.5mm) & SS10 (~3mm) hotfix crystals. The maximum font height will be different for a different hotfix crystals size, and the height is tabulated in the table below. If you need a template for a different hotfix crystal size, we can do it for you, just contact us.
Estimate Hotfix Font Height
SS6
2.6cm
SS8
3.0cm
SS10
3.4cm
Hotfix Font Height Range (Product Filtering Purpose)
SS6 Font Height
2.5cm to 4.0cm
SS8 Font Height
2.5cm to 4.0cm
SS10 Font Height
2.5cm to 4.0cm
This product has a minimum quantity of 2